By Joseph Mather, Robins Public Affairs / Published February 23, 2021
ROBINS AIR FORCE, Ga. – Contractors remove debris from around building 602 to pave way for a new commercial vehicle gate and access control center at Robins Air Force Base, Georgia, Feb. 8, 2021. The new commercial access control point construction project, led by the United States Army Corps of Engineers, Savannah District, will add space for commercial vehicles to get in line without backing up traffic on Georgia Highway 247. (U.S. Air Force photo by Joseph Mather)
ROBINS AIR FORCE, Ga. —Contractors are tearing down building 602 to pave way for a new and improved commercial vehicle gate and access control center at Robins Air Force Base, Georgia.
The new gate layout will help reduce vehicle backup from Georgia Highway 247, and the construction project, led by the United States Army Corps of Engineers, Savannah District, is expected to be completed early December 2021.
The new facility will meet current standards for antiterrorism and force protection," said Derek Grimsley, 78th Civil Engineers Group. "The gate layout will address capacity, speed, and wrong way detection, and have screening points for checking of visitor credentials, and cargo prior to being admitted onto the base."
More space is being added to mitigate traffic issues, currently an issue at the existing Truck gate.
"The new gate will add queuing space for commercial vehicles to get in line without backing up traffic on Georgia Highway 247," said Grimsley.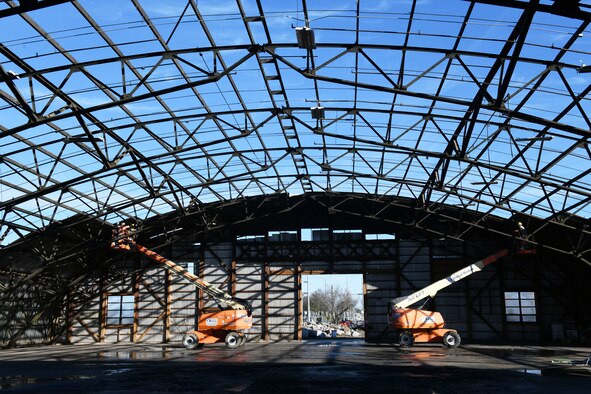 A variety of building and staging areas will be built to support the truck processing mission.
"A gatehouse will be for support staff conducting inspections," said Grimsley. "The vehicle inspection, identification check area, and x-ray inspection areas will be protected by canopies."
"The x-ray canopy will be constructed to support a new mobile truck mounted x-ray unit," said Grimsley. "This will allow for the 78th Security Forces Squadron to have mobility for special events like the Air Show."
Improvements are in planning for other access control points.
"Upgrades will include realignment of roadway to meet the current standards for antiterrorism and force protection," said Grimsley. "This adds protection for 78th SFS staff and all base personnel from outside threats attempting to gain access to the base."