February 12, 2021 
WARNER ROBINS, GA – This week, Congressman Austin Scott (GA-08), a senior member of the House Armed Services Committee (HASC), joined General Charles Q. Brown, Chief of Staff of the United States Air Force, to discuss the important roles performed by the men and women at Robins Air Force Base to our national defense in the face of an increasingly belligerent Communist China. Following the visit to the base in Warner Robins, GA, Rep. Scott released the below statement:
"Robins Air Force Base, the Warner Robins Air Logistics Complex, the JSTARS wing, and the Air Force Reserve Headquarters Command are critical not only for the U.S. Air Force, but for the Department of Defense as a whole. I thank Gen. Brown for visiting Robins this week to meet with the base's senior leadership and leaders of the Georgia National Guard to discuss present and future missions for the total force at Robins. As we enter into the Fiscal Year 2022 National Defense Authorization Act cycle, I will continue to fight for a strong national defense made possible by the thousands of Active Duty, Guard, DOD civilians, and contractors who work at the base," said Rep. Scott.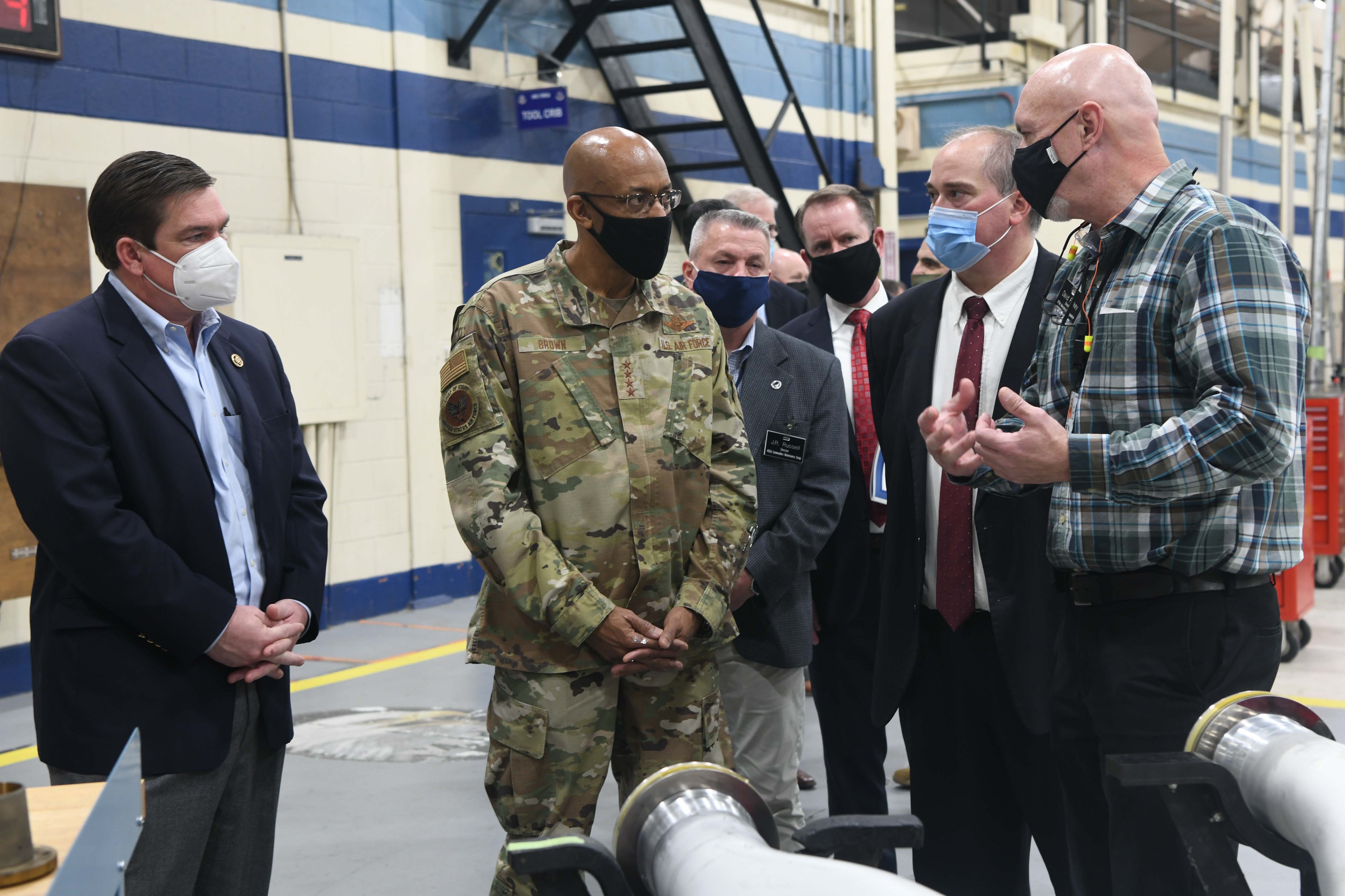 Rep. Scott (left) and Gen. CQ Brown (Center) on C-130 Propeller Overhaul Tour at Robins Air Force Base. (Image courtesy of Robins Air Force Base Public Affairs)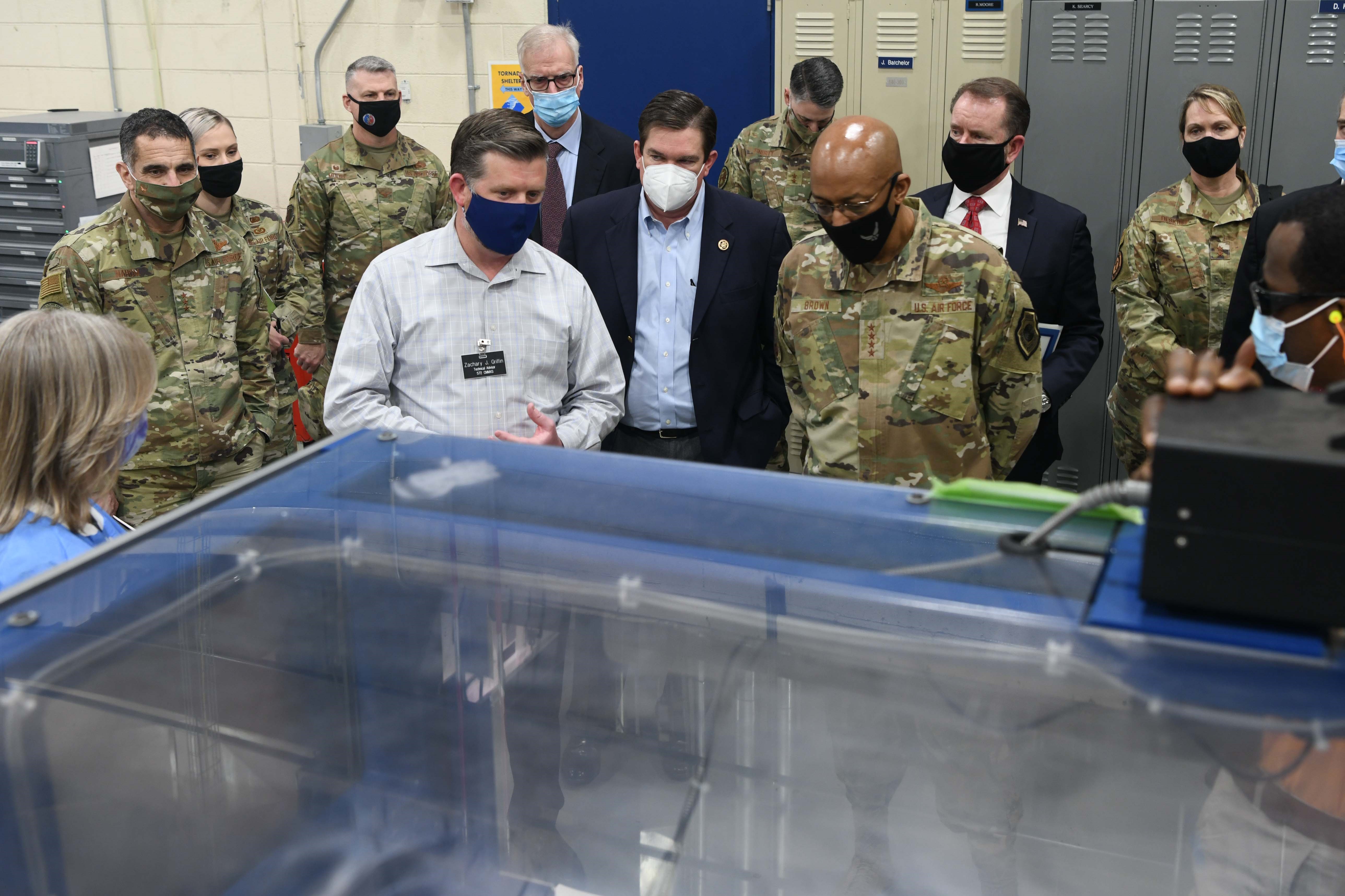 Rep. Scott and Gen. CQ Brown on C-130 Propeller Overhaul Tour at Robins Air Force Base. (Image courtesy of Robins Air Force Base Public Affairs)
Robins AFB is home to the 116th and 461st Air Control Wings, which operate and provide support and logistics for the critically important E-8C Joint Surveillance Target Attack Radar System, or JSTARS, platform. JSTARS are utilized by Combatant Commanders around the world for airborne battle management, command and control, intelligence, surveillance and reconnaissance. The JSTARS have an economic impact to Georgia of approximately $195 million and support thousands of Active Duty, Guard, Reserve, and Department of Defense (DOD) civilian and contractor jobs.
The Warner Robins Air Logistics Complex (WR-ALC) is also located at Robins. Through about 7,000 employees, the WR-ALC provides depot maintenance, engineering support and software development to major weapon systems (F-15, C-5, C-130, C-17 and Special Forces aircraft). The Complex supports peacetime maintenance requirements, wartime emergency demands, aircraft battle damage repair and a ready source of maintenance of critical items. In February 2018, the Navy announced that all Navy and Marine Corps C-130 depot maintenance work would be moved to the WR-ALC by 2021. This projected workload is expected to create 400 new jobs over five years and make Robins the primary location for C-130 depot maintenance for all of the Department of Defense.
Robins AFB is also home to the Air Force Reserve Command, which provides the Air Force with combat-ready reserve forces. Air Force Reserve Command units support nuclear deterrence operations, global integrated intelligence surveillance reconnaissance, global precision attack, personnel recovery, and air, space and cyberspace superiority missions. They also perform space operations, aircraft flight testing, aerial port operations, civil engineer, security forces, military training, communications, mobility support, transportation and services missions.