By Kisha Foster Johnson, Public Affairs / Published December 07, 2020
WARNER ROBINS, GA. – Col. Brian Moore, Robins Installation commander, presents Houston County Commissioner Tom McMichael the 2020 Sam Nunn Community Leadership Award at the Museum of Aviation, Dec. 4, 2020. The annual award recognizes an outstanding community leader for the individual's dedication to the base and the U.S. Air Force. (U.S. Air Force photo Kisha Foster Johnson)
Robins Air Force Base Leadership presented the 2020 Sam Nunn Community Leadership Award to Houston County Commissioner Tom McMichael Friday, Dec. 4, at the Robins Museum of Aviation.
The annual award honors an outstanding community leader for the individual's support and dedication to Robins Air Force Base and the U.S. Air Force.
Moore delivered remarks about McMichael's long history of humanitarian efforts before presenting the award to him.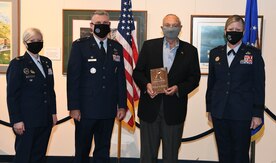 In years past, McMichael has served on 13 different boards ranging from education, healthcare, church, 21st Century Partnership and Robins Regional Chamber. He also chaired the museum's foundation several times along with the Central Georgia Technical College foundation and United Way boards."Tom is someone whose actions are consistently above and beyond in support of the installation," said Moore. "His greatest attributes are his infectious patriotism and sincere enthusiasm for those wearing the uniform, especially the Airmen at Robins Air Force Base, and demonstrating 'Every Day In Middle Georgia is Armed Forces Appreciation Day."
McMichael, a veteran commissioner of 24 years, was surprised to receive the award and fought back tears.
"I had no idea why I was coming to the museum. I was told to just show up," McMichael said with a laugh and watery eyes. "By golly, this community has been so good to me and so I have always wanted to give something back to the community and will continue to do so."
McMichael was also stunned to see his family members in the audience, which included his children, Gayle Brown and Greg McMichael as well as two grandchildren.
The namesake of the award is Perry native Sen. Sam Nunn. He served as a U. S. Senator from 1972 to 1997 and held the chairmanship of the Senate Armed Services committee from 1987-1989.
The 82-year-old Nunn gave a congratulatory message via video to McMichael.
"He is the ultimate public servant and ultimate volunteer," said Nunn. "There is an old saying, that many people pass by opportunities cause so often opportunity comes dressed in overalls and looking an awful lot like work. Tom has never passed up an opportunity to help Houston County, Middle Georgia, Robins Air Force Base, the museum and everyone he meets day to day. Tom is truly a wonderful public servant. Thank you Tom very much for all you have done."
"This award means a lot to me," said McMichael. "Sam Nunn is one of my heroes. For him to say the things he said about me meant more to me than you can ever imagine. I appreciate everyone for giving me this honor."
McMichael is the second recipient of this award. Local businessman Eddie Wiggins was the first recipient in 2019.
A permanent plaque with the names of the recipients is displayed on a wall inside the museum's History of Flight Art Gallery.